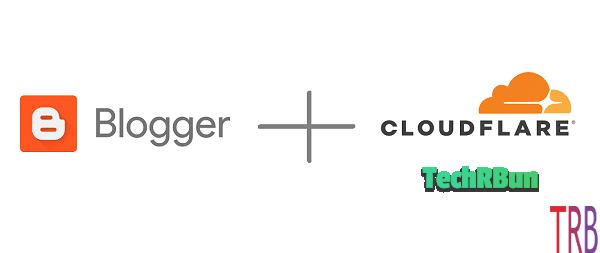 Blogger is one of the most popular blogging platforms for both, personal and professional blogging, and Cloudflare is a trusted and very popular Content Delivery Network (CDN) that possibly everybody has heard of.

In this article, I will show you how to setup Cloudflare CDN for your Blogger Blog for free and will also discuss some of the cool features that Cloudflare provides.

Along with the tutorial on how to set up free Cloudflare CDN for Blogger, I will also discuss a common problem which occurs due to the wrong configuration of Blogger with CloudFlare, which causes SSL handshake failure and makes your website non-accessible. But worry not, I have got an easy fix to this problem which I have shown later in this article.

Cloudflare not only helps in increasing a website's speed, but it also protects against various attacks, for example, a DDOS attack, in which, the victim's website is attacked from many sources at the same time by sending a flood of traffic, making it impossible to stop the attack and thus, causing the website to crash.

I have been using Cloudflare for a long time and strongly recommend everyone to use it for their website/blog as it drastically improves the website's performance and security to a large extent and also adds a ton of apps and options to enhance the user's experience on the website.

As represented in the diagram below, Cloudflare prevents such attacks by routing the traffic to your website through a series of intelligent networks, which can detect unusual behaviour from traffic and block the attackers from accessing your site, but it doesn't cause any disturbance to the search engine crawlers and genuine visitors.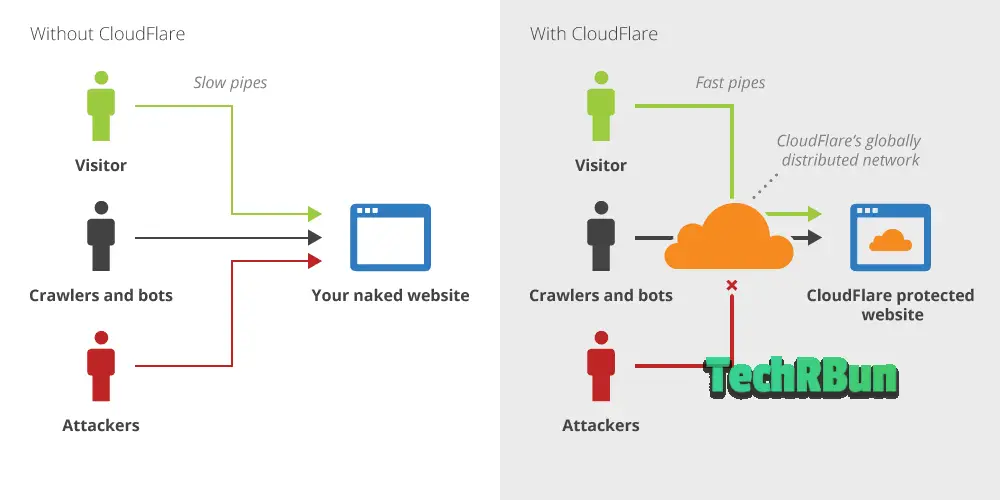 Cloudflare also provides a free SSL certificate for your blog that allows visitors to view your site over HTTPS and also gives a boost to your search engine ranking, as HTTPS is an important ranking factor for Google.
That was the security part, in brief, now coming to the second most well-known feature of Cloudflare, is that it speeds up your website by the following methods:-
By using CDN, to deliver your web pages to your visitor faster,

By Caching some parts of your website, thus delivering very fast loading time,

It automatically minifies JavaScript and CSS in your source code to make your website load faster.
Well, those were some of the basic reasons why you should definitely use Cloudflare CDN for your Blogger Blog, now I'll show you the steps you need to perform in order to set up free Cloudflare CDN for Blogger.
HOW TO SETUP FREE CLOUDFLARE CDN FOR BLOGGER BLOG [STEPS] :
Requirements: Please note that you would need a custom domain in order to setup Cloudflare for your Blogger blog, as it does not support .blogspot.com URLs. But, you can get some low-level custom domains (.ml, .tk, etc.) for free. Although, I won't recommend using low-level domains as Google does not favour those domains in terms of SEO ranking.
(Note – .blogspot.com domains are excellent for SEO, they do not have any downside in terms of SEO ranking factors.)
1.

Sign up on Cloudflare
Go to www.cloudflare.com and signup with your e-mail address.
2.

Add your website's address

Type your website's address in the given field as shown above and click on the 'Add site' button.
3. Verify DNS Records

Cloudflare will take a few seconds to scan your existing domain records and then a list will appear, from where you can verify that all your DNS records have been detected by the system and if something is missed out you can manually add them. (No worries if you are not sure what these mean, usually Cloudflare automatically detects everything and you can simply move on to the next step.)
Here, you can choose the sub-domain if you want any to keep off the Cloudflare network. An 

orange 

cloud represents that the sub-domain will be cached and served over the Cloudflare network, while a 

grey

cloud represents that the particular sub-domain will bypass the Cloudflare network and all requests will directly go to the webserver. 
If you have custom mail servers, you can add them here too. (You can find the instructions on how to add e-mail records on Cloudflare from here.)
4. Choose your plan
You will then be asked to choose a plan for your Cloudflare account. The free plan provides all the basic necessary features that you would ever need.
Next, you will be asked to choose the performance level and security settings for your website. I would recommend the medium performance setting as it will safeguard your website from bot and spam attacks.
 However, if your site is currently facing attacks, you may choose a higher setting, but I strongly suggest to avoid the higher setting if your site is not facing an attack, as the higher settings cause inconvenience to genuine visitors as they are shown a captcha to solve.  
(SAMPLE PICTURE NOT INCLUDED DUE TO THE EVER CHANGING UI OF CLOUDFLARE)
5. Change your Nameservers to Cloudflare Nameservers
This is the last step and here you will be provided with two nameservers from Cloudflare and you will need to replace your existing nameservers with these two nameservers provided by Cloudflare.
To change the nameservers, first log in to your domain registrar's website and click on the manage DNS option. There you will find some existing nameservers. Delete all of them and add the two nameservers provided by Cloudflare. 
Here's an example screenshot on how to configure it on Google Domains –

If you are not sure how to change the nameserver, do a web search for the following search term – "how to change nameservers on (your domain registrar's name)"
After you have replaced the nameservers, be patient as it might take a few hours for the changes to be updated. You will receive an e-mail from Cloudflare when your site is successfully added to Cloudflare.
[IMPORTANT] Prevent Cloudflare SSL Handshake Failure Error :
When used with Blogger, Cloudflare sometimes causes SSL handshake failure which makes the website inaccessible. But it can easily be prevented, here's how :
1. 

First, Go to Blogger Settings and put HTTPS redirect to off.
2. Go to the "Crypto" page of Cloudflare and select "flexible" under SSL settings.

3. Scroll down and turn on the "Always use HTTPS" option on (On the same page)

That's it! You have successfully prevented any Cloudflare SSL handshake error from occurring.
You've successfully setup Free Cloudflare CDN for your Blogger Blog!
Some great features which Free Cloudflare CDN has to offer and which you should turn on :
Still, wondering why should you use Cloudflare CDN for your Blogger blog?
Here are some of the great features and benefits of using Cloudflare with your Blogger blog –


1. Automatic HTTPS mixed content fix :
It automatically fixes all the mixed content errors, which enhances your website's security and provides benefit in SEO.
2. Free SSL certificate : 
Cloudflare provides a free Cloudflare-signed SSL certificate which renews automatically!
3. App store

 :
Cloudflare provides an awesome app store, from where you can install lots of plugins to your website with just one click, no need of coding!
Cloudflare allows you to block specific IP address and even the traffic from specific countries, from accessing your website. It also displays a list of IP addresses that were found to be suspicious by Cloudflare and had failed to solve captchas provided by Cloudflare. You can block those IP addresses manually.
5. Huge improvement in page loading speed:
Did you know that visitors tend to close the web pages that take a long time to load? 
Cloudflare provides the option to automatically minify Java Scripts and CSS on your website, and its 
Rocket Loader

 reduces your page's loading time drastically by loading all the Java Script on your website asynchronously.
However, the 

Rocket Loader 

was found to interfere with some AdSense scripts and should be turned off if the user detects similar problems.
That was the complete guide to setup

Free Cloudflare CDN

for your Blogger Blog.
Do comment below if you have any confusion regarding this article and do share this article if it has helped you. As you know, Sharing is Caring! : )