Blogger is one of the most popular free blogging platforms out there, and Ezoic is one of the best ad optimization technology companies that exist in the industry.
In the beginning, almost all new bloggers monetize their sites with Google AdSense, but with a little more time and experience in the industry, everyone realize that ad optimization companies like Ezoic pay them a ton more, often 5-10X more than what AdSense would pay them.
Thus, in this article, I will be showing you how you can set up Ezoic with your Blogger (Blogspot) blog.
Does Ezoic Work With Blogger (Blogspot)?
Ezoic can be set up with Blogger with the help of Cloudflare. This method of integration of Blogger with Ezoic, via Cloudflare, is only applicable to blogs hosted on Blogger having a custom domain. Sites having .blogspot.com domains cannot be connected to Ezoic.
On its official support page, Ezoic mentions that there are currently no official direct methods of integration of Ezoic with Blogger, discouraging a lot of bloggers, but they fail to mention that there is actually an alternative way to connect Blogger sites with Ezoic, i.e., via Cloudflare.
Thus, for all the site owners out there using Blogger to run their blogs, I am writing this article to provide them with a step-by-step guide to integrating Ezoic with their sites.
Steps To Connect Ezoic With Blogger (Blogspot) Blog
The steps to integrate your Blogger site with Ezoic are as follows:
Connect Your Blogger Blog To Cloudflare
Connecting your blog to Cloudflare is the most important pre-requisite in order to set up Ezoic for your site.
Officially, there are three methods of integrating a site with Ezoic:
Cloud integration through nameservers.
Cloud integration through Cloudflare.
Plugin integration for WordPress sites.
It is possible to integrate a custom domain enabled Blogger site with Ezoic using any of the first two listed methods.
However, in this article, I'm gonna discuss only the 2nd method, i.e. Ezoic – Blogger Cloud integration through Cloudflare, as it's the simplest method of all, and comes with the added advantages in speed and security provided by the Cloudflare network.
Here's the complete step by step guide to set up Cloudflare for your Blogger (Blogspot) site: How To Set Up Free Cloudflare CDN for Blogger Easily
Sign Up For Ezoic
First of all, head over to Ezoic and sign up: Ezoic Sign Up Page.
If your site receives less than 10,000 page views per month, sign up using the Ezoic Access Now Program.
Connect Your Site To Ezoic Using Cloudflare
On your Ezoic Dashboard, you will find "GET STARTED TODAY" section. Under that, click on the "Integrate Your Site" link, as shown below.

On the next page (Site Integration), you will find the Cloudflare option at the very top. If you do not see the Cloudflare option on this page, re-check whether you're properly connected your blog to Cloudflare or not, otherwise, wait for a few hours for the DNS propagation to complete.
Once you see the Cloudflare integration option on this page, click on the "ACTIVATE VIA OWN ACCOUNT" button, as shown in the image below.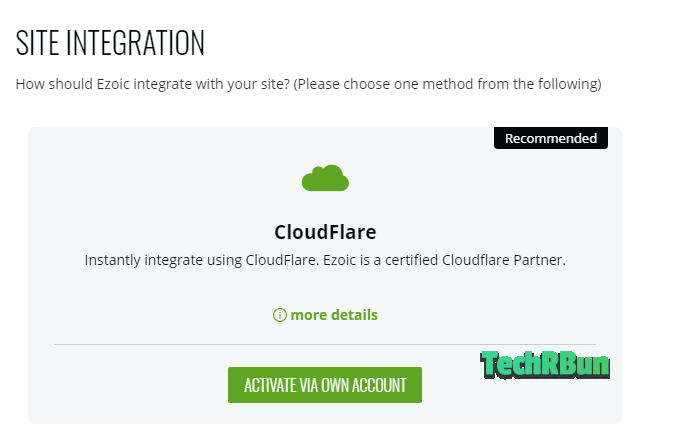 Next, enter your Cloudflare account credentials on the next page, and click on the SAVE button and wait for a few hours.
Your Blogger blog will now be integrated with Ezoic and you can go ahead and set up the ads to run on your site.
I hope this article was helpful and you could successfully connect your Blogger site with Ezoic. If you have any queries or doubt, feel free to comment down below, I'll try my best to help you out.
Have a great day ahead!