We live in a time where technology is penetrating every facet of our lives, simplifying tasks and offering an unprecedented level of convenience.
One such technological marvel is the Infrared (IR) Blaster. Currently emerging as a game-changer for iPhone users, these small contrivances morph your smartphone into a universal remote, controlling a myriad of home electronics.
This article will delve into IR blasters, demystifying their operations, and tracing their evolutionary journey up to their current version. Further, it will explore the vital role of applications in harnessing the full potential of an IR blaster, offering insights into popular apps for seamless use.
Finally, it'll offer a comprehensive review of some of the premier IR blasters available for iPhone users, assessing their features, setup, operation, pricing, user feedback, and relevance to different user requirements.
With this information, not only will it transform your understanding of this flourishing technology, but it will also empower you to choose a blaster that is tailor-made for your specific needs.
The Evolution of IR Blaster Technology
Initially, IR Blasters primarily facilitated communication between computers and peripherals, such as printers. Over time, this technology has been incorporated into smartphones and used to control televisions, air conditioners, and other household appliances.
The concept, however, remains largely the same: an infrared light-emitting diode (LED) generates flashes of light at a specific frequency, representing distinct commands that an infrared sensor in the receiving device interprets.
Understanding IR Blasters On iPhone
IR Blasters, short for Infrared Blasters, are devices that act as universal remotes for various infrared-enabled electronics in and around your home. This technology harnesses the power of infrared light to transmit signals between your device and the appliance it is paired with.
The IR Blaster on an iPhone functions much like the remote control for your television – it sends signals that instruct a device on what action to take. The iPhone, however, uses a mobile application to direct these signals, with apps such as "Roomie Remote", and "EzRemote" being amongst the most popular options.
When using an iPhone as an IR Blaster via an app, the iPhone itself doesn't emit infrared signals. Instead, an external IR blaster hardware device connected to the iPhone generates these signals.
The mobile application then manipulates these signals to correspond with various commands on multiple devices, thus turning your iPhone into a universal remote control.
Best IR Blasters (Hardware) for iPhone: Our Top 3 Hubs And Mini Blasters
As you explore the market for the best IR Blasters to enhance the functionality of your iPhone, you'll discover several distinct options.
At TechRBun, our team has tried and tested over 20 different IR blasters and hubs for iPhone, and below are our top 3 picks.
BroadLink RM4 Pro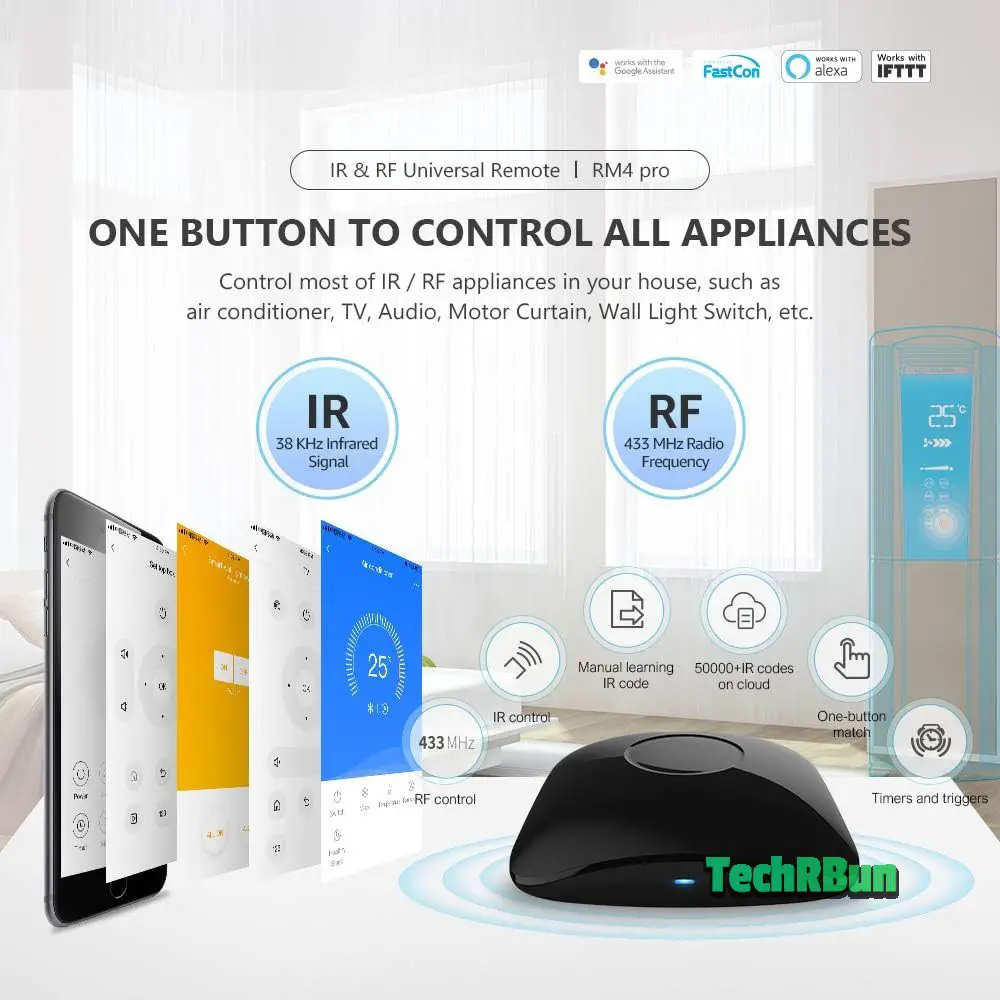 The BroadLink RM4 Pro IR/RF Remote Control is a robust device, supporting both IR and RF controlled equipment.
When used in conjunction with the BroadLink Intelligent Home App, this tool can command virtually any infrared device in your home.
Logitech Harmony Hub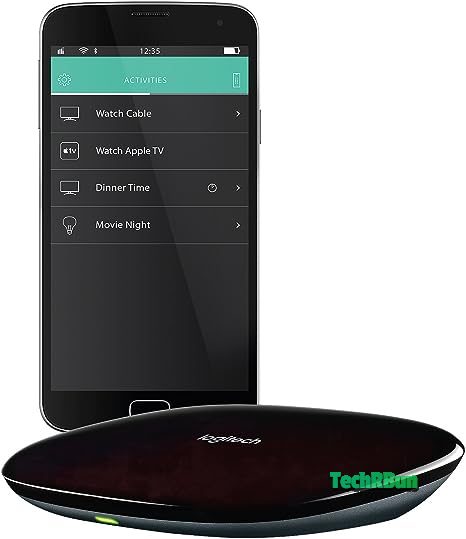 The Logitech Harmony Hub transfigures your iPhone into a private universal remote, giving you authority over a variety of gadgets.
Although discontinued by manufacturer, it still remains one of our top recommendations.
In synergy with the Harmony app, your iPhone can regulate up to eight devices including gaming consoles and streaming units.
UJV Smart IR Control Hub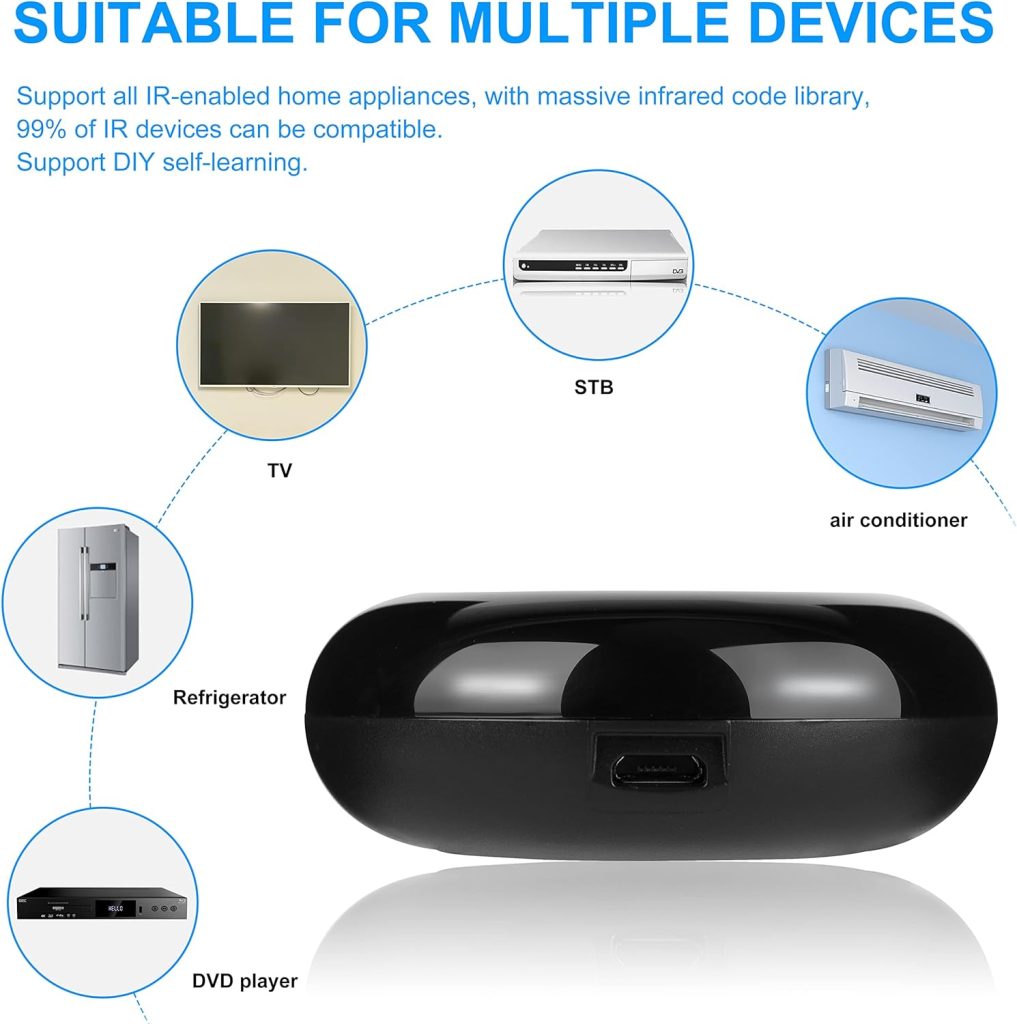 The UJV Smart IR Remote Control is a small, yet mighty device, having the potential to manage a multitude of household gadgets.
Further, its companion – the Tuya Smart app, allows for scheduling and customization of routines.
Honorable Mentions: A Few More Impressive IR Blasters for iPhone
In this section, we'll showcase additional impressive IR blasters for iPhone that deserve an honorable mention.
While they may not have secured the top spots, these runner-up devices offer excellent performance and features, making them noteworthy choices for those seeking reliable IR blaster functionality on their iPhones.
BroadLink RM Mini3: A Compact IR Control Hub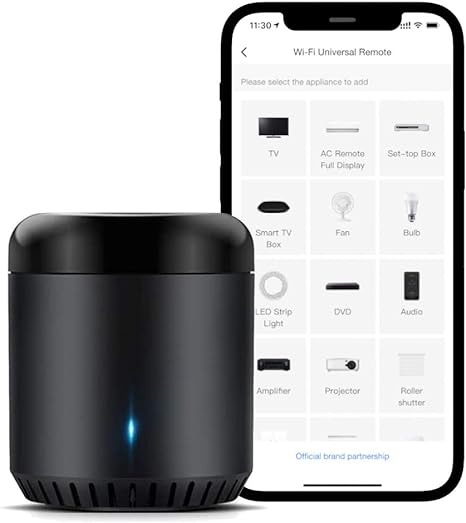 For those in pursuit of smart home optimisation, consider the BroadLink Mini3 IR Control Hub. This compact yet powerful hub converts your smartphone into a universal remote that controls any IR remote-enabled device in your house.
Setting it up is as simple as using the BroadLink Intelligent Home Center (IHC) Application. Moreover, it integrates voice control features compatible with Alexa and Google Home. However, be aware that additional setup for these voice assistance might be necessary, as some users suggest.
Most homeowners have appreciated its reliable performance and smooth integration with numerous home appliances. It's competitively priced, making it quite accessible for the average user. Its small size and ability to control multiple devices have received commendations, but be aware, a few users have pointed out occasional connectivity issues.
SofaBaton U2 Universal Remote Attachment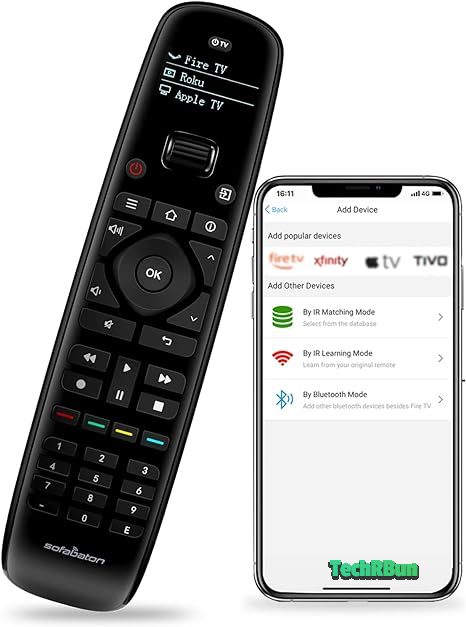 If you are searching for a solution that can integrate directly with your iPhone, the SofaBaton U2 Universal Remote Attachment could be the best option.
Unlike Wi-Fi based IR blasters, this is an iPhone-specific solution that plugs into the charging port of your phone and allows you to control devices using the SofaBaton App.
The setup is simple and has a user-friendly interface. This product's performance is well-regarded by users, who've noted its decent range and responsivity.
It is competitively priced, aligning with similar market offerings while providing dedicated iPhone compatibility.
The main drawback, as per user reviews, is that it can drain your iPhone's battery more rapidly due to its use of the charging port.
Pronto and Peel App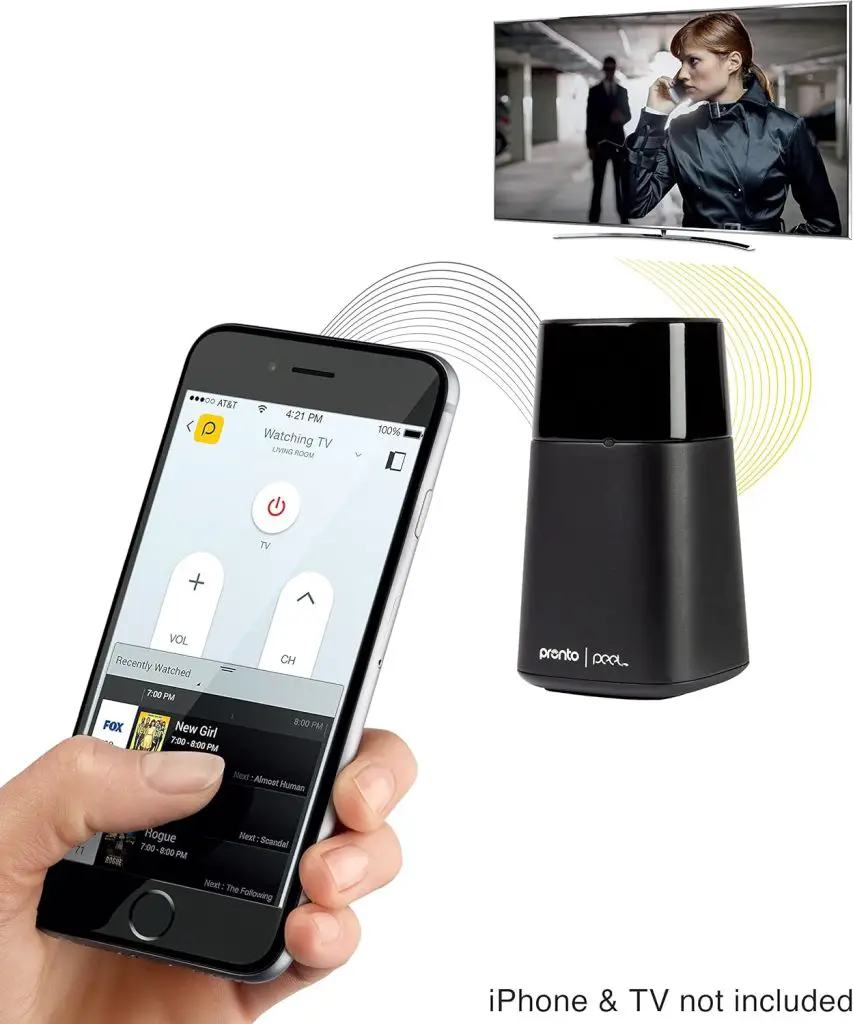 If you're after a compact device with a significant range, the Pronto and Peel App might be the right fit.
The Pronto device interfaces with your iPhone via the Peel app, transforming your phone into a smart universal remote.
One commendable aspect of this device is its 360-degree IR coverage, making device placement less of a challenge.
User reviews suggest it provides good performance yet sometimes faces slight delays. Its price is moderate compared to other models, but provides good value due to its comprehensive device compatibility.
Some users highlight the Peel App's ability to recommend shows as an advantageous feature, but others have expressed disappointment with frequent app ads and limited control customization.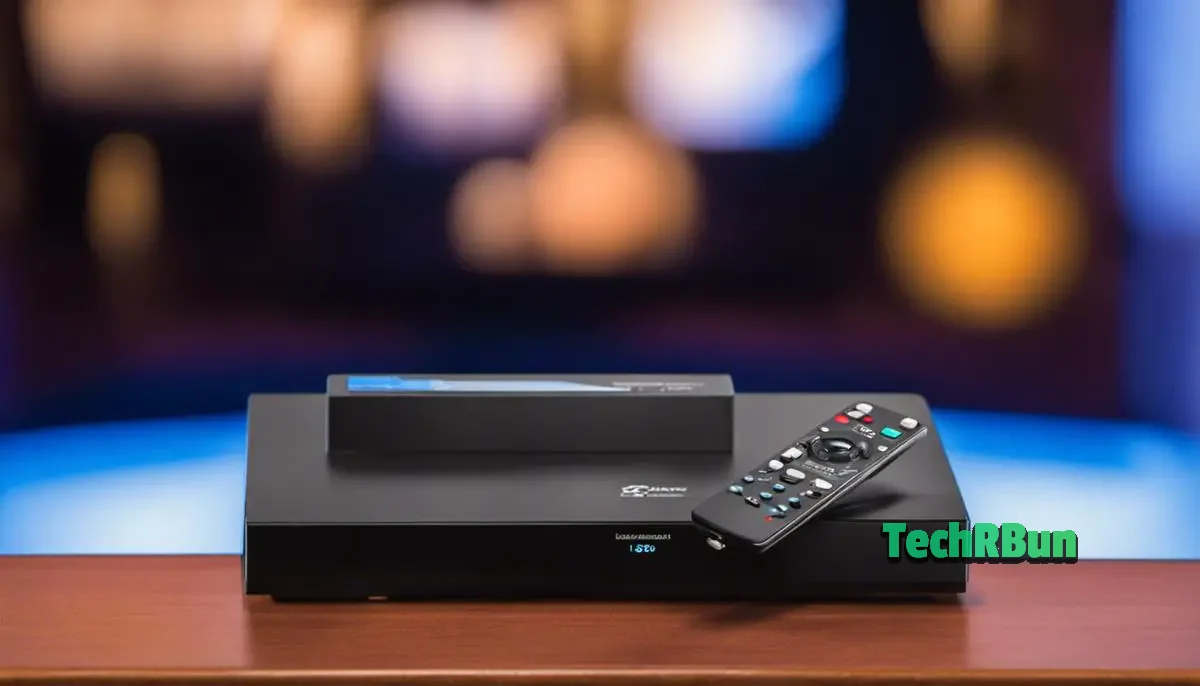 The Role of Apps in IR Blasters
The Role of IR Blasters in Optimizing Your iPhone's Capabilities
An infrared (IR) blaster is a specialized device that projects an infrared signal, making it operational with various appliances compatible with IR remote controls. Typically, smartphones such as your iPhone, do not come with built-in IR blasters.
This gap is filled by an external IR blaster that connects via your phone's charging port, transforming your iPhone into a universal remote. This metamorphosis allows it to govern a broad array of devices – from TVs and air conditioners to other household electronics.
Role of Applications in Operating IR Blasters
Applications play a pivotal role in operating an IR blaster on your iPhone. These apps provide an interface for you to send commands through the IR blaster to other devices.
The popular iOS apps for driving IR blasters include Roomie Remote, Universal Remote app, and RedEye. They boast user-friendly interfaces with customizable settings that allow you to control multiple devices with ease.
Roomie Remote: Centralizing Control of all Your Devices
The Roomie Remote is a popular choice due to its capability to integrate multiple device control into one convenient hub.
With this app, you can control not just your IR devices, but even those that connect via Wi-Fi or Bluetooth. It allows for custom configurations, allowing you to create tailored 'scenes' which adjust multiple devices at once.
Universal Remote App: Easy Set-up and Broad Compatibility
This app, as the name implies, is designed to work as a universal remote control. It holds a high compatibility range and an easy set-up process. The app's interface is intuitive, making it simple to add new devices or edit the settings of the existing ones.
RedEye: Advanced Features for Power Users
For those seeking more advanced features, RedEye provides a powerful alternative. Its advanced settings offer users controls over finer details, enabling them to precisely tailor their remote functionality. However, these advanced features bring with them a steeper learning curve for newcomers.
Compatibility Issues
Whilst these apps are instrumental in giving the IR blaster functionality, users should be aware of possible compatibility issues. In some cases, certain models of appliances or older devices may not be compatible with these apps. Users might then have to resort to other apps OR manually program the IR codes.
Unlocking the Potential of IR Blasters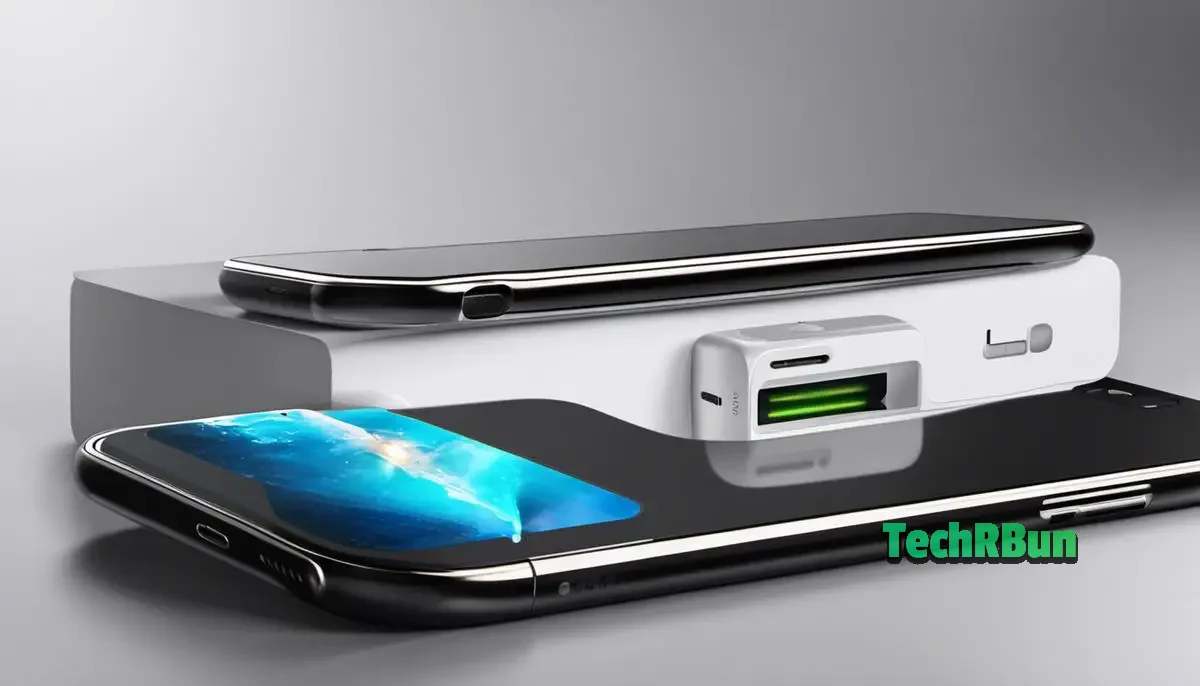 The world of IR Blasters is diverse, encompassing an array of options that cater to unique needs and preferences.
While the task of transforming your iPhone into a universal remote might seem unapproachable, understanding the technology and accessing the right tools, such as appropriate applications, can make the experience smoother.
Through analysis of some of the leading IR Blasters for iPhone, it is clear that they all offer unique solutions and features. They represent a mix of price points, performance levels, user experiences, and unique features.
Ultimately, the best IR blaster is one that delivers efficient performance, is easy to install and handle, and integrates well with your lifestyle.
With this understanding, initiating the journey towards home automation via your iPhone becomes an achievable reality. As you embrace this technology, it's a stepping stone towards a smart lifestyle, utilizing technology more efficiently for everyday tasks.