Our daily lives are often served with a dose of technology, with devices like the Amazon Firestick Remote playing a significant role in how we consume entertainment.
However, the convenience they bring can also pose challenges, especially when such a small yet essential device goes missing.
This guide is designed to help you find your lost Amazon Fire Stick remote using various methods and tricks. We'll also share other tips regarding how you can control the Fire TV stick without a physical remote.
You'll explore how to employ your Fire TV app as a missing remote substitute, requiring only a WiFi connection. Furthermore, if you own an Amazon Echo device, this guide provides you with a step-by-step procedure on how you can use it to locate your missing remote.
You'll also gain insight into some potential issues you might encounter when searching for your lost remote and how to troubleshoot them.
Lastly, don't miss our tips and tools for preventing a possible future loss of your Amazon Firestick Remote.
Understanding Amazon Firestick Remote
Understanding the Layout of Amazon Firestick Remote
The Amazon Firestick remote has a simple, user-friendly design, equipped with several buttons serving different functions.
At the top of the remote is a circular navigation ring with a Select button at the center. This ring allows you to scroll up, down, left, or right across the Firestick's interface, while the Select button in the center is used to choose an item on the screen.
Below the navigation ring, you'll find the Home button, shaped like a house, and the Menu button, which bears three horizontal lines. The Home button will take you directly to the Firestick's main screen, whereas the Menu button brings up a content-specific options menu.
Next, there is the Back button, which allows you to return to the previous screen. Followed by this are the Play/Pause, Forward, and Rewind buttons, which control media playback.
At the bottom of the remote, you'll find buttons designed for easy access to leading streaming platforms like Netflix, Amazon Prime Video, Disney+, and Hulu, depending on the model of the remote.
Distinguishing Features of Amazon Firestick Remote
One of the distinguishing features of the Firestick remote is the built-in microphone and the Voice button located at the very top of the remote.
This feature allows you to use Amazon's digital assistant Alexa to control the Firestick hands-free. Simply hold the button down and command Alexa to perform tasks such as searching for a specific show or even controlling smart home devices.
The Firestick remote also has volume control buttons on its side, along with a mute button, offering you control over your television's volume.
How Amazon Firestick Remote Communicates with the Firestick Device
The Amazon Firestick remote communicates with the Firestick device using a Bluetooth connection.
This means the remote doesn't have to be pointing directly at the device for it to work, offering you a range of up to 30 feet.
This distance can be less if there are obstructions or interference from other electronic devices.
Setting up the device is easy. Once you've installed the batteries into your remote, it should automatically pair with your Firestick after you've connected the Firestick to your TV. If it doesn't, you can manually pair the remote by holding the Home button for around ten seconds.
It's worth noting that because of its Bluetooth functionality, the Firestick remote can also pair and control other connected devices like soundbars and some game consoles. But, always refer to the connected device's manual to check its compatibility.
In case you lose or misplace your remote, the Amazon Fire TV Remote App is available for smartphones and works functionally the same as the physical remote. The app uses a WiFi connection to communicate with the Firestick.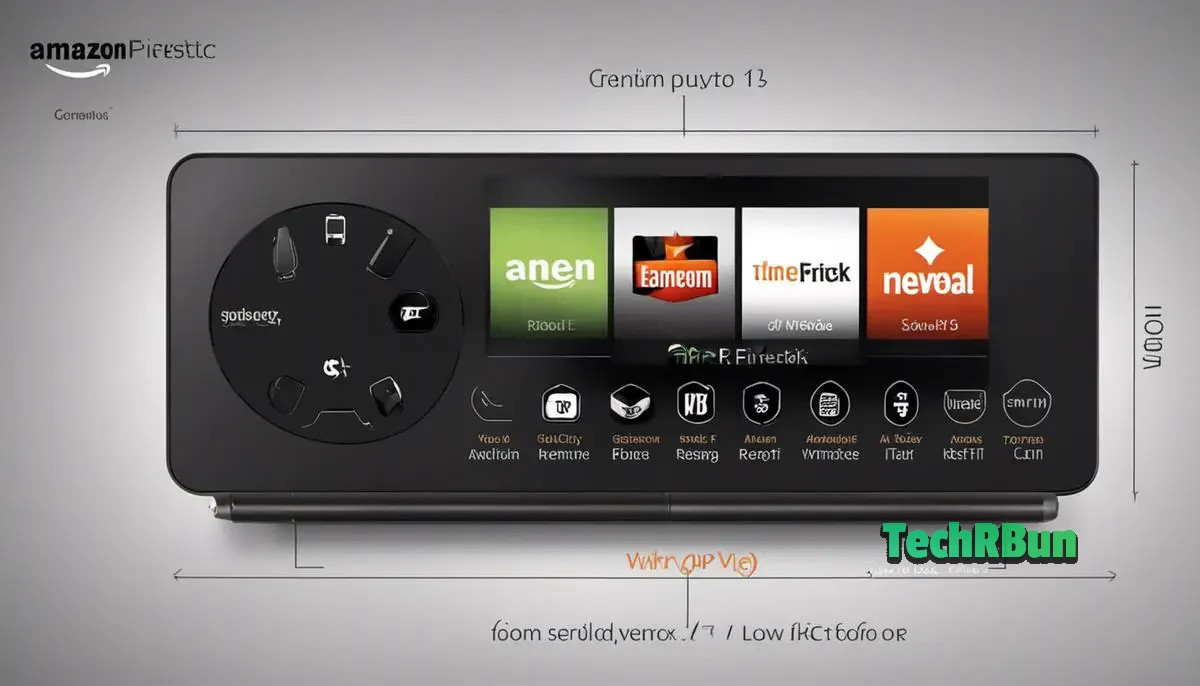 Using the Fire TV App
Downloading and Installing the Fire TV App
To replace your lost Amazon Firestick remote, you can download the Fire TV app on your mobile device. The app is available on both Android's Google Play Store and Apple's App Store. Once you locate it, tap on the 'Install' or 'Get' button to download the app.
Setting Up the Fire TV App
After the app is installed, open it to begin the setup process. On the first screen, you'll need to sign in with your Amazon account, the same one used on your Fire TV. Choose 'Register a Fire TV' from the devices list and then follow the displayed instructions.
Connecting to Wi-Fi Requirement
The Fire TV app requires your phone and Firestick to be connected to the same Wi-Fi network. Your Fire TV's name should appear in the app once they are on the same network. If it's not appearing, check the Wi-Fi settings on both the Fire TV Stick and your mobile device and make sure they are both connected to the same network.
Using the Fire TV App as a Remote
Once everything is setup successfully, the app's home screen will serve as a virtual remote control, mimicking the functions of a physical Firestick remote.
At the top of the screen, there will be a touchpad where you can swipe up, down, left, or right to navigate through your Fire TV's interface. Just below this touchpad, there are home, back, and options buttons which function just like their physical counterparts.
A microphone button is available for voice controls, which allows you to use Amazon's Alexa. Just hold down the microphone button and speak your command.
In addition to these, you also have the option to type using your phone's keyboard, offering a faster way to search compared to selecting each letter on the screen with the Firestick.
Additional Benefits
The Fire TV app also offers benefits such as viewing live TV and accessing app shortcuts straight from your phone. With these capabilities, you'll find the app to be a viable and resource-efficient alternative to the traditional remote.
Remember, while it's not ideal to lose your Firestick remote, the Fire TV app provides a great backup solution. The functions of the physical remote are well translated into the app, ensuring you can keep control of your Firestick in the case of a misplaced remote.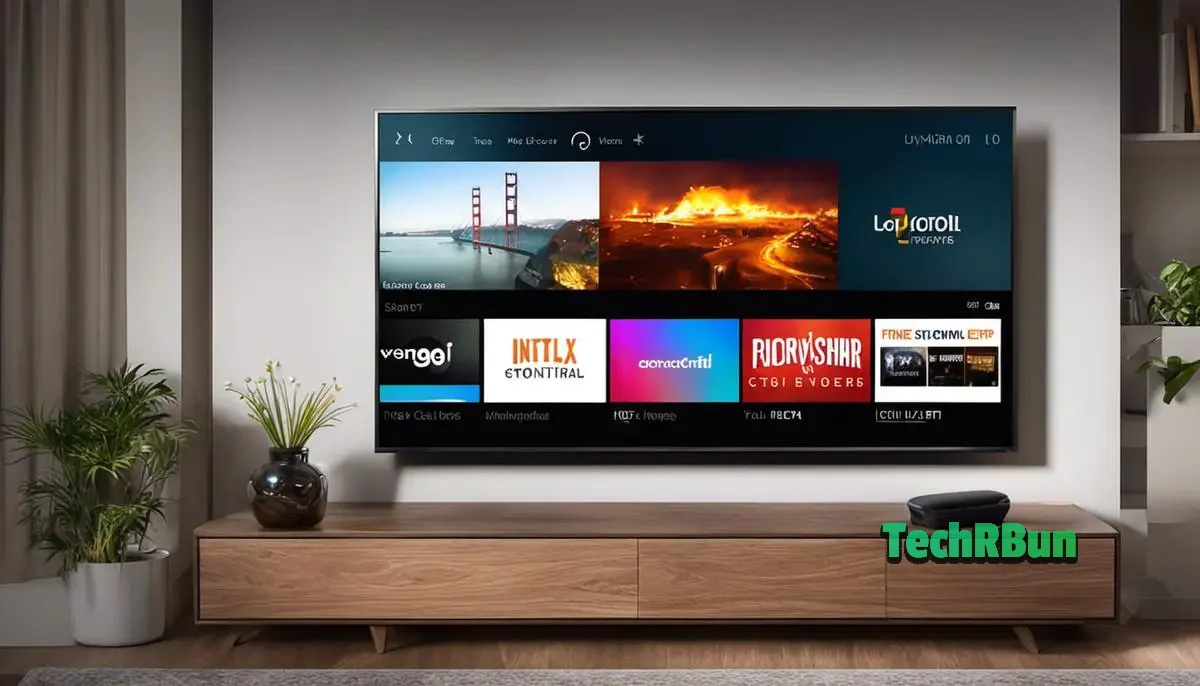 Use Echo to find Firestick Remote
Configure Your Echo and Firestick
To use the Amazon Echo to find your Firestick remote, first, ensure that both, your Echo and Firestick, are linked to the same Amazon account.
Your Echo must also be connected to the internet for this process. Go to the Amazon Alexa app on your phone and check the settings to make sure all your devices are properly synced up.
Voice Command to Find Firestick Remote
You can simply ask Alexa to find your Firestick remote. Say "Alexa, find my Fire TV remote" to the Echo. Listen closely as Alexa will generate a sound on your Firestick remote, helping you locate it. Remember, the remote needs to be within the Bluetooth range of the Firestick for this to work.
In Case of No Sound From the Remote
If you don't hear a sound, it's possible that your Firestick remote is out of battery, or it's out of range. In this case, try replacing the batteries, or look in nearby areas for the Firestick remote.
Echo as a Voice Remote Substitute
If you still cannot find your lost Firestick remote, Echo can act as a voice remote. You can say voice commands through your Echo to control your Firestick like "Alexa, watch [insert show name] on Fire TV" or "Alexa, pause" and "Alexa, continue". This can help you navigate your Fire TV until you find your remote.
Locate Through the Fire TV App
If you can't locate the remote and you have a smartphone, you can use the Fire TV app as a backup remote control. Simply download the app from the respective app store and log in with your Amazon account. The app can perform all the functions of a physical Firestick remote. The app can also come in handy if your remote often gets misplaced or lost in the couch cushions, as it's less likely to lose your smartphone.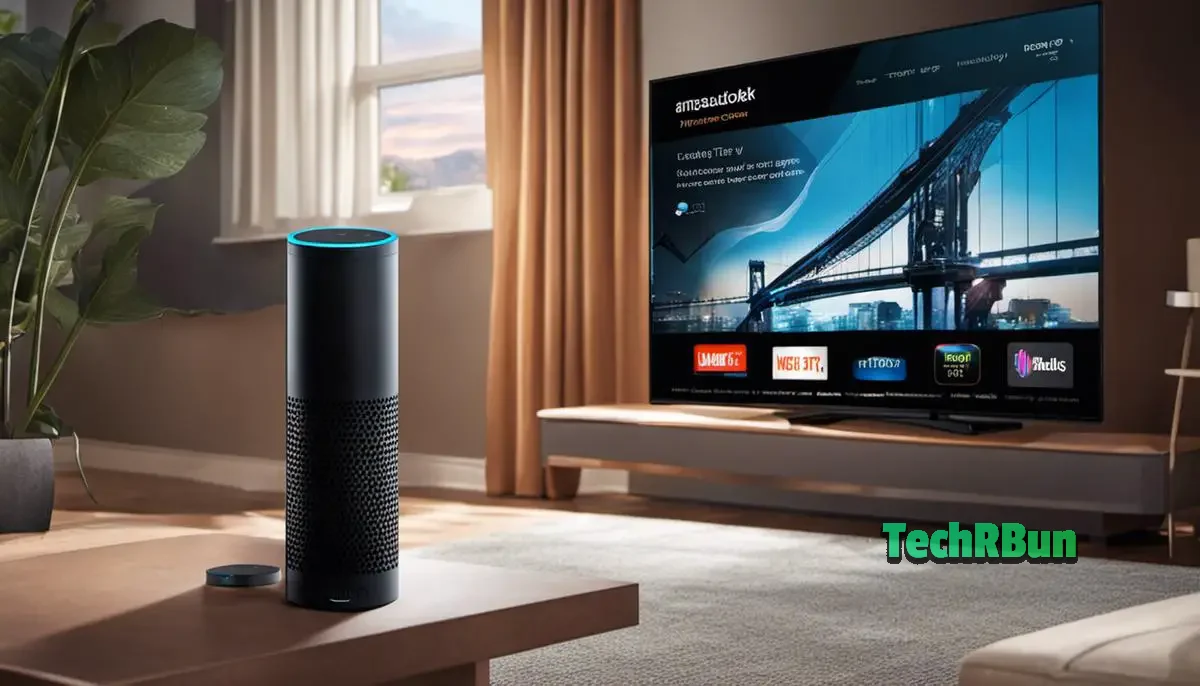 Troubleshooting Lost Remote Issues
Identifying the Problem
In the event that you lose your Amazon Firestick remote, you might encounter several problems. You might be unable to turn on your TV, navigate through your apps, or control your settings. This might lead to a halt in your streaming activities, creating a sense of frustration.
Retracing Your Steps
Retracing your steps can be a helpful solution when you lose your Firestick remote. Try to recall the last time you used the remote and the area surrounding it. For instance, you may remember that you were watching a movie in the living room, suggesting that the remote could be in that area. If you used the remote in a different room, be sure to check there too.
Checking High-Traffic Areas
Frequently used or high-trafficked areas are common places where lost items can be found. Check around your couch, counters, coffee tables, and any other frequently utilized spaces. It's also possible to find your Firestick remote in between your couch cushions or under furniture.
Using the Fire TV Remote App
Until you find your lost remote, a temporary solution could be utilizing the Fire TV Remote app. This app is available for Android and IOS and can be used to control your Firestick. Simply connect your smartphone to the same Wi-Fi network as your Fire stick and you are good to go.
Buying A Replacement Remote
In the unfortunate case that your remote is truly lost, purchasing a new Firestick replacement remote might be the best course of action. We recommend an upgrade to a universal remote that is compatible with multiple devices.
Remember, in every troublesome situation, there are multiple potential solutions. Losing your Amazon Firestick remote might seem stressful in the moment, but there are always viable options available to regain control over your viewing experience.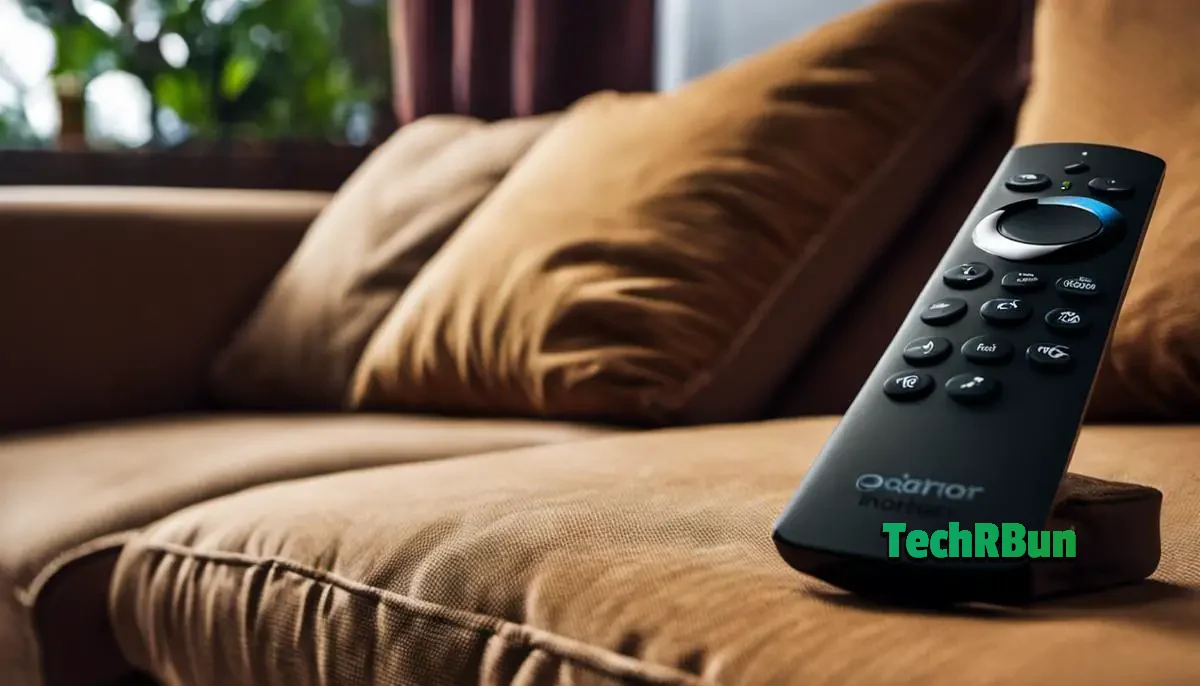 Preventing Future Loss
Utilize a Remote Holder
A simple solution that can help prevent the loss of your Amazon Firestick remote is to utilize a remote holder or caddy. Remote holders come in various designs, from simple containers to hang on the wall, to ones that fit on the arm of a couch, or stand on a coffee table. Choose a holder that suits your environment and ensures that everyone using the remote knows it should be returned to the holder when not in use.
Attach a Tracker
Another effective method to prevent losing your Amazon Firestick remote is to attach a small device tracker to it. There are many types of trackers available in the market like Tile, Chipolo, and Cube. These trackers use Bluetooth technology and connect to an app on your phone. Once connected, you can ring the tracker using the app, guiding you right to your lost remote. If you've truly misplaced it, the app can also show its last known location.
Leverage Bright and Distinctive Cases
Adding a bright and distinctive case to your Amazon Firestick remote can help make it easier to spot. Opt for cases in vibrant colors or fun patterns that will stand out among your household items. This not only protects your remote from scratches and other damage but also makes it less likely to go missing.
Adopting a Designated Spot
Establish a designated spot for keeping your firestick remote. It could be a specific table, draw, or corner, make sure this space is easily accessible, visible, and known to everyone who uses the remote. A designated spot helps create a habit of placing the remote back to the exact place after use, minimizing the chance of misplacement.
Stick it Up
Another unique solution is to add a piece of Velcro or a small magnet to the back of your remote and its counterpart somewhere convenient. This could be the side of the TV, a wall, or the side of a table or cabinet. When you're done using the remote, simply stick it back in place. This not only saves space but also makes it easier to locate.
By using these tools and habits, you can significantly reduce the chances of losing your Amazon Firestick remote in the future. Always remember, the key is consistency in following these methods.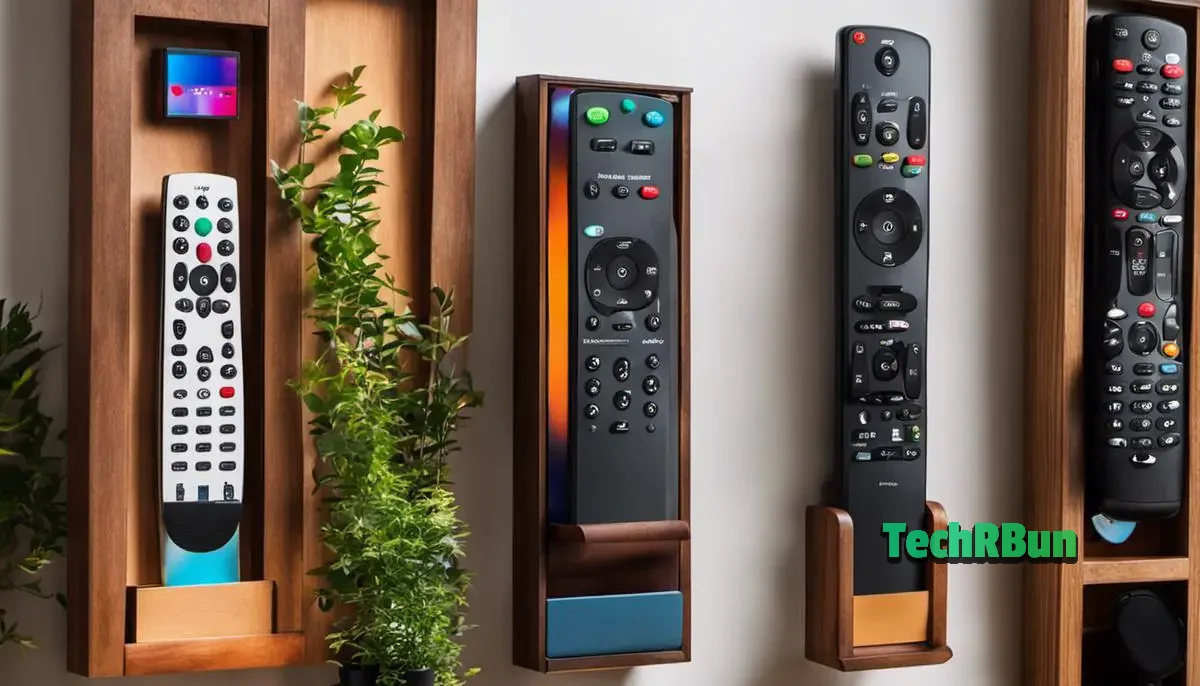 Understanding your Firestick remote is the first step toward finding it when it goes missing and preventing possible future losses.
This guide has taken you on a journey of discovery from understanding the remote, the smart solutions available in locating it such as leveraging the Fire TV app and Amazon Echo, troubleshooting issues, and finally, securing it against future loss.
The information provided should empower you with the knowledge to manage and navigate future lost Amazon Firestick Remote situations.
By implementing the practical tips and tools suggested, you will improve your overall experience with your Amazon Firestick Remote and ensure seamless, uninterrupted entertainment.