Bliss - Aesthetic, SEO Friendly & Fast Blogger Template
Clean, Optimized Code. Full of Goodness, No Unnecessary Fluff.
BIG UPDATE!
WITH OUT LATEST INSTANT PAGES UPDATE, INTERNAL PAGES NOW LOAD ALMOST INSTANTLY ON ALL SITES USING OUR THEME. IT COMES WITH THE QUICKLINKS ALGORITHM BAKED IN!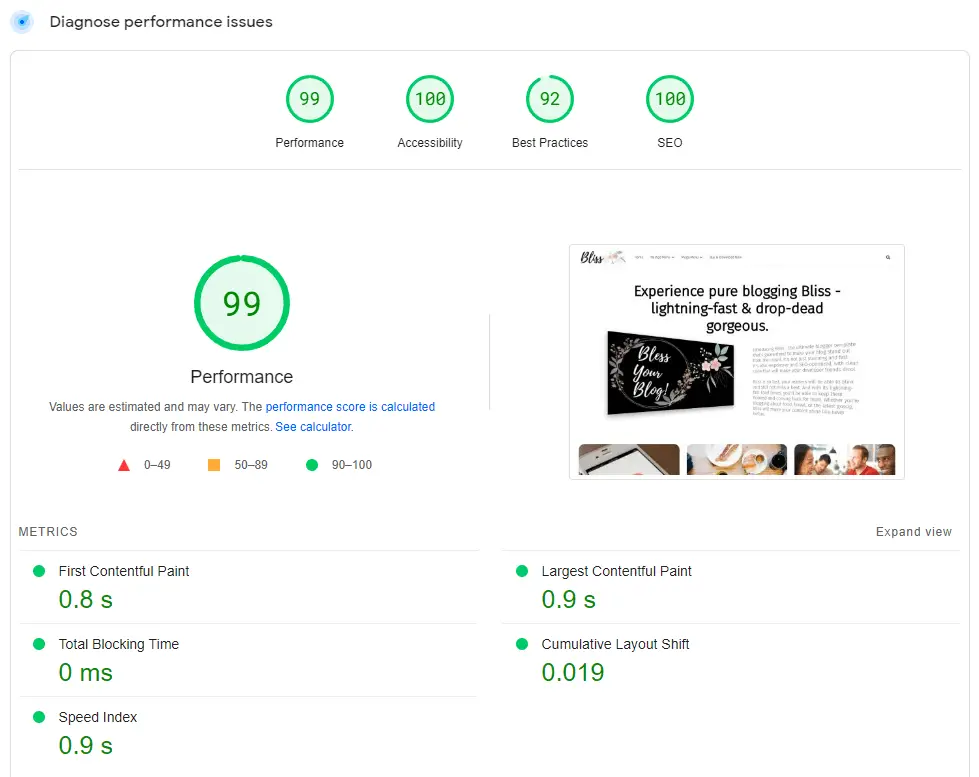 Introducing Bliss - the Blogger template that's sure to make your heart sing! Say goodbye to bland and boring blog designs, and hello to a stunning, aesthetically beautiful design that's guaranteed to turn heads.
Bliss is the perfect blend of form and function. With its clean interface and lightning-fast loading speed, you'll be able to keep your readers engaged without any pesky lag. Plus, with support for Google Rich Snippets and all premium SEO features included, your blog is sure to rank high on search engine results pages.
But that's not all - Bliss comes fully loaded with social sharing options, so your readers can easily share your posts with their friends and followers. And with the Facebook Page widget included, you'll be able to connect with your audience on a whole new level.
And let's not forget about performance - Bliss is built with 100% clean and optimized code, ensuring that your blog runs like a dream. So go ahead, indulge in Bliss and experience the ultimate blogging experience. Your readers (and your sanity) will thank you for it!
Features
Aesthetically beautiful design
Clean and user-friendly interface
Extremely fast loading speed
Google Rich Snippets support for improved search engine visibility
All premium SEO features included
Social sharing buttons to encourage your readers to share your posts
Facebook Page widget to increase engagement with your audience
100% clean and optimized code for optimal performance
Responsive design that looks great on all devices
Customizable layout and color options to match your branding
Easy-to-use navigation menu for seamless browsing
Integrated contact form to connect with your readers
Sidebar and footer widget options to display your latest posts or popular categories
Support for popular blogging features like comments, post pagination, and more.
Fully Customizable to meet your exact needs!
Bliss has everything you need to create a beautiful and functional blog that will stand out from the crowd.